Boise, Idaho's capital, might have been one of the most surprising destinations I've ever visited. It's full of local charm while having a cosmopolitan feel. The capital and largest city of Idaho, it has all the buzz of a great college town while providing unique cultural and historical attractions. And the people are so lovely! Even before arriving in Idaho's capital, I got a glimpse of the hospitality and kindness of Boise's inhabitants. Literally, everyone I reached out to beforehand – hotels, bars, restaurants, even @visitboise itself, would go above and beyond themselves and share their recommendations, tips, and hidden gems of the city. There's plenty to see, do, and taste for lovers of food, art, history, nature, culture, and more.
The weekend in Boise felt like a rush of hospitality and kindness that I didn't realize I had missed in the USA lately. Plus, the city is not only super accessible but loaded with fun things to do (including secret speakeasy bars and plenty of coffee roasters—you know how much I adore these). One's for sure; I'll be back sooner than later. In my Travel Diary, I will tell you how to spend a perfect weekend enjoying all Boise offers.
FACTS
Boise (pronounced boy-see) is the capital city of Idaho, named after the river flowing through the east side of the Oregon border and north of the Nevada border. The metropolitan area lies in a narrow part of the Lower Snake River Valley, rimmed by the Boise Mountains to the north and the Owyhee Range to the southwest. With about 240k people living in Boise, it ranks as the 99th city in terms of population in the US. However, it's also supposed to be one of the fastest-growing cities.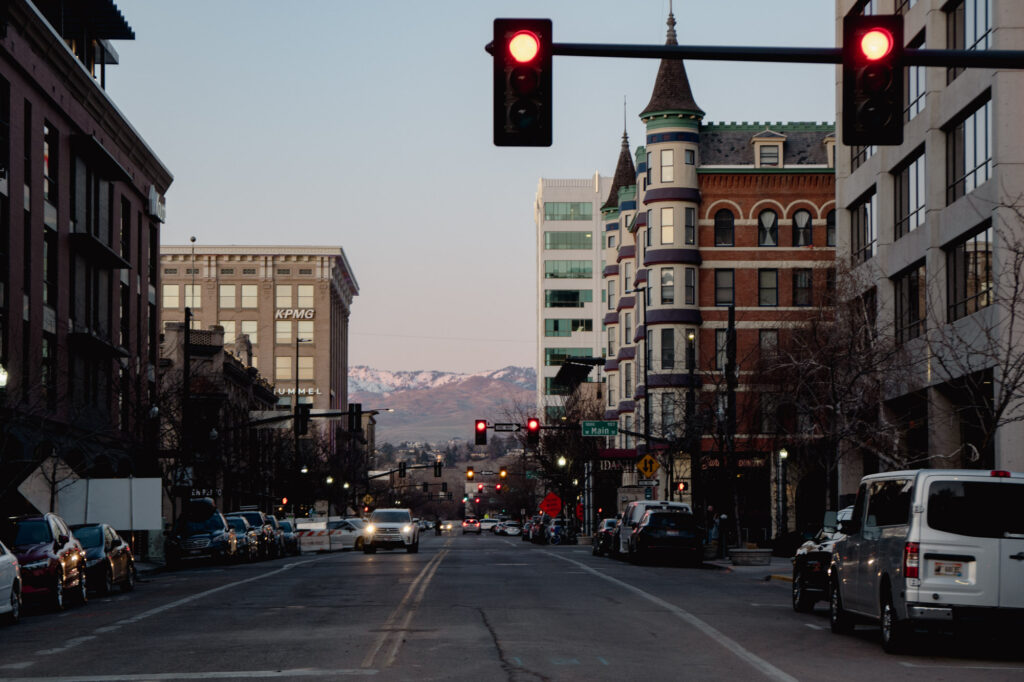 WHY BOISE?
I got this question a lot. Most of my American friends have never been to Boise and didn't have it on their radar, either. As you know, I am a German living in the US and am currently not supposed to leave the country. I might talk about this topic in more detail at another time in my Expat Diary. But that's pretty much the reason why we decided to make the best out of the situation and explore the United States extensively and as much as we can. Hence, I don't visit places in a specific order but rather decide on price and accessibility. You probably saw my reel the other day, which pretty accurately showed how randomly I pick my destinations.
Boise is a quick flight hour away from SFO and is considered a year-round destination with many activities for everyone. During winter time, it is a perfect weekend getaway for skiing. But I kind of had a feeling that Boise downtown could be super fun too, and it turned out I was right I was surprised HOW much I liked it.
TRAVEL DIARY
We arrived in Boise on a Friday evening. Tickets for the flight were only $60, and the flight was operated on an Embraer 175 with a 2-2 configuration (shoutout to Alaska Airlines).
Upon arrival, we checked into our accommodation fairly quickly and went on a stroll to explore downtown Boise. The first impressions gave me major Berlin vibes. Boise is way smaller, but there was a distinct buzz that I haven't noticed in any other American city, with people drinking beer on the streets and seemingly having fun gathering and mingling. Find the entire Travel Diary visually presented here.
WHERE TO STAY
I confess: I am one of these gals who travel somewhere for the purpose of staying at a specific hotel, influenced by @tablethotels and Instagram. When I first discovered @modernhotel a while ago, I knew where I wanted to stay when we visited Boise.
The Modern Hotel – The Modern Hotel is trendy, retro, and non-pretentious all at the same time. The restaurant's food was excellent. It has an intentional 1940s or 50s vibe, which is fun. Once a ramshackle Travelodge motel, the Modern Hotel and Bar was completely renovated in 2016 and is now a chic boutique inn with very reasonable rates (thank god, the US can be freaking expensive) and probably the best in-house cocktail bar @themodernbar ever.
I didn't take pictures of the rooms, as we arrived quite late in the dark, and they are furnished very minimalistic, so I don't think I would have given them justice. Some say the design gives off Mad Men Vibes, and I can see how the wooden interior and the 70ies furniture feed into that. In any way, the rooms were spotless and extremely quiet, just how we like it.
If you value boutique stays over big box hotels, I don't think there is any better place to stay in Boise Downtown. So, be sure to check @modernhotel out if you plan to visit. Other accommodations include The Grove Hotel (a pretty standard and decent American hotel) and The Franklin House (a unique and intimate concept).
Disclaimer: This is my genuine opinion. I was not paid or asked to share any of the above.
If you're looking for a perfect long weekend, Boise has you covered with fantastic options for both indoor and outdoor exploration. Check out some of our favorite activities to make the most of your stay in the city.
Freak Alley
Freak Alley Gallery, located between 8th and 9th Street and Bannock, is a renowned spot for murals, graffiti, and public art galleries. It is considered the biggest outdoor gallery in the Northwest and has been an integral part of Boise's cultural scene since its establishment in 2002.
The Basque Block
Located in the heart of downtown Boise, the Basque Block is a vibrant and diverse community that showcases Idaho's commitment to preserving and celebrating its unique cultural heritage. This neighborhood serves as an excellent example of the successful conservation and documentation of a living ethnic community.
Or––if you followed my story the other day, you might have noticed that I spent 36 hours in Boise… boozing. Read more about this in the following.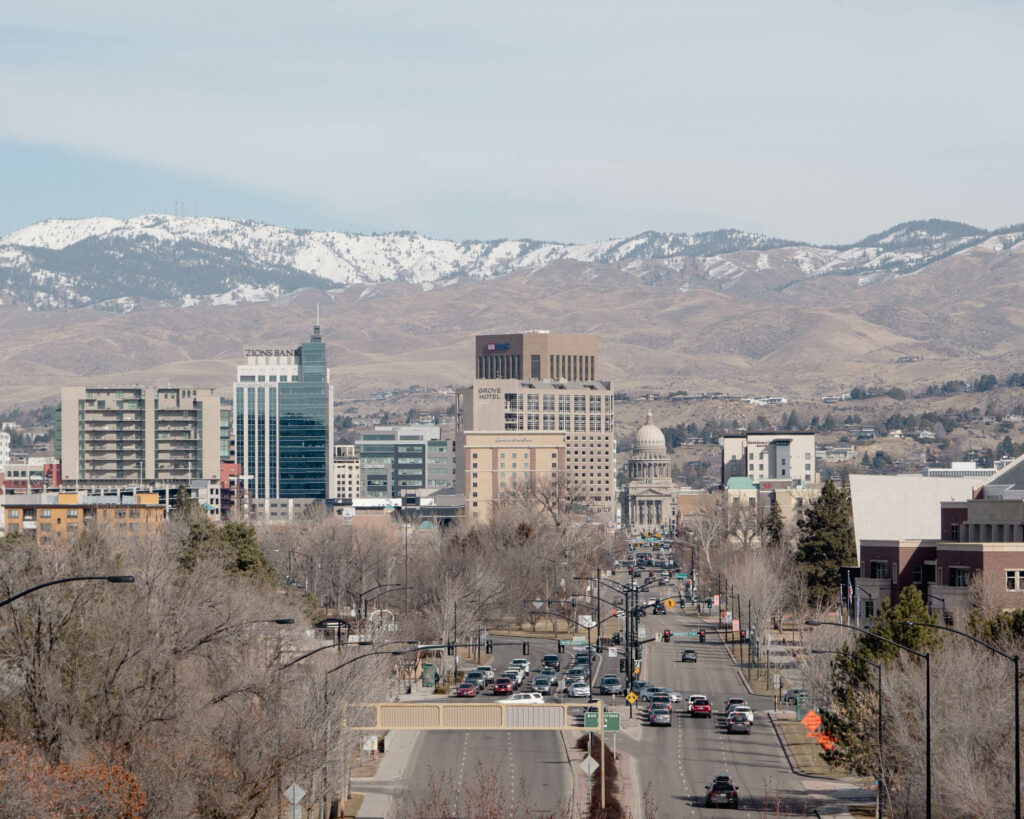 FOOD & DRINK
Once I realized that Boise had many hidden speakeasy bars with excellent craft cocktails, I just couldn't pace myself—I had to try them all! I didn't quite achieve that, as there are so many, but I still managed to visit quite a few, and I can genuinely recommend all of them. Never have I been to a place with such a density of excellent cocktail bars AND lovely, kind staff (they all kept on recommending the next place for me to go and genuinely supported each other)
BARS (Speak easys)
Sooo, whenever you're in Boise, check these following bars out (but don't make the same mistake and try them ALL in one day, LOL):
Bar n°40 at The Lively Boise @thelivelyboise (only open on Saturdays)… the best Manhattan from the most genuine head bartender. We had a blast!
Thick as Thieves | @thickasthievesboise – A hidden cocktail bar in downtown Boise. You need to call a number to get in… and their staff is incredibly kind; I could have stayed and chatted with them all night.
Art Haus Bar | @art_haus_bar / Ampersand Bar—I talked about their incredible and unique concept in an earlier post… just a truly special place, especially if you appreciate art & crafts.
The Modern Bar | @themodernbar bar of @modernhotel with truly one of the best crafts I've ever seen at a hotel bar.
Restaurants
Frankly, I was quite busy exploring speakeasy bars (aka boozing, lol) on this particular trip, so I didn't go to as many dining places. However, Boise offers amazing spots to dine in, and I'd like my favorites with you, plus those that I will certainly check out next time.
The Wylder | @the_wylder – Damn good pizza, craft cocktails, sandwiches, and nightly suppers.
Be honest! Have you heard about Boise before? I haven't, but I am so glad we risked flying somewhere unknown only to find this amazing place in Idaho, just a short one-hour-trip away from SFO, with so much buzz, love, and hospitality. I will be back!