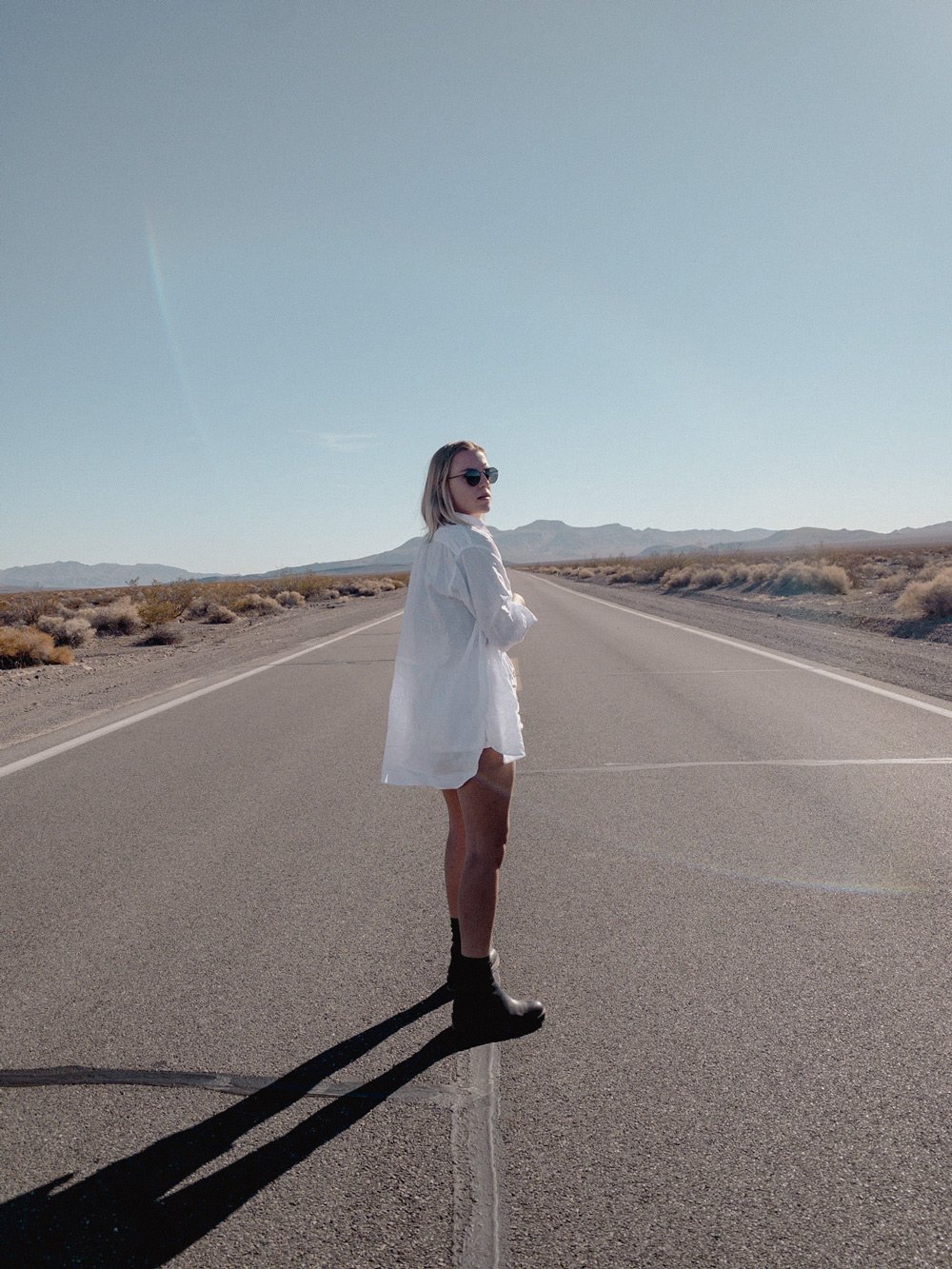 What to take on a road trip in California
---
We have already made several road trips in the USA, especially California. After our last very spontaneous road trip across 1500 miles (ca. 2,414 km), including a drive through Death Valley and two other national parks, I finally wanted to share my experiences with you. A road trip can be so free and flexible, but it still needs the proper preparation to enjoy it.
Here come all the things you should have in your car the next time you travel through California for a few days or more:
Gallons of Water!
Water is the most important thing to take on a road trip through California and everywhere else. Please take it in great quantities, preferably so much that you could survive twice the time of your trip. Fortunately, you can find gallons (3.78 liters) of water in every store and gas station in America for just a few dollars, which you can easily stack and store in the trunk of your car. We always take our own water bottles, which we store in the center console at the front of the driver's compartment, and regularly refill throughout the day.
On our four-day road trip through the national parks and Las Vegas, we had eight gallons in the trunk for two people. We got by just fine, with additional soft drinks and coconut water in the cooler and additional drinks in diners, restaurants, or hotel rooms. We both drink a lot on average, but the national parks, especially Death Valley, are so dry and salty that you need extra fluids and must watch your hydration balance! It's scary how many tourists die in the national parks yearly because they underestimate the heat and just don't drink enough. Therefore: Pack instead a little too much.
Cooler & COOL Batteries
A cooler that keeps drinks and food cold throughout the day is indispensable for a trip through the USA. We have ours from Amazon, and I can recommend it. In the U.S., there is actually in every cheapest motel a refrigerator with an ice box; if necessary, there is always an ice machine in the hallway, so you can fill up your cooler daily to keep food and drinks fresh. A real blessing on a trip through the vast country of the USA.
Snacks
Snacks are to a road trip as the sun is to California, but away from gummy bears and co, I'm giving you some tips for convenient and replenishing snacks and foods that are suitable on a trip through the Sunshine State:
Bagels – can be found in any supermarket for a few dollars and are easy to eat, spread with cream cheese, peanut butter, jam, or avocado, or, in a pinch, just snack on them.

(Rice) Crackers – are an excellent snack for in-between and—combined with the other products from the snack box—also make a small meal.

Hummus, Guacamole, and other dips – for bagels, or crackers for spreading or dipping. It's available in the refrigerated section of every supermarket in the USA. We are fans of Trader Joe's Organic Hummus.

Cheese – a piece of cheese in between is always a good idea and provides energy.

Fruits & Veggies – Bananas (also a good electrolyte supplier), avocado (always works at any time of day), apples, and possibly vegetables such as cocktail tomatoes, which can be snacked well).

Salty Pretzels, Chips (take those coming in a tube, not in a bag).

Granola Bars
Electrolyte mixtures // Beverages
I have just mentioned it before. Drinking is one thing, but you should also pay attention to mineral balance and salts. Because if you sweat and are on the road all day (and hopefully drink a lot of water), you automatically lose vital minerals that provide energy. That's why we always have coconut water and bottled pressed juices in our cooler, but non-alcoholic beer or American classics like Gatorade or Coke are also suitable.
Furthermore, having a few tea bags and/or instant coffee powder with you is not wrong. Hot water is available at every gas station; even Starbucks will unconditionally refill the thermos flasks you bring. And especially at night, it can get chilly in California, so sometimes tea is a great relief in between.
% beverages
Because I just talked about beer, one may not want to do without alcoholic beverages, even on a road trip. And nothing is more relaxing than having a pre-chilled drink after a long day on the road and not having to go to the nearest supermarket or bar. Because, as we all know, that costs money, especially in America.
But beware! Carrying (open) alcohol in the cab or within reach of the driver is absolutely forbidden and expensive. If you still want to transport alcohol, I recommend a second cooler in the trunk (where you can also store water)—or a lot of luck. In America, there is, in any case, pretty much everything in cans, and so also beer (eh clear), wine, or even cocktails (Margarita or Gin & Tonic to go), which you can transport well. The consumption is only when you have reached the day's last stage!
Clothing
Obviously, the choice of clothing is super individual and depends on whether you are more of a "hiking through the national parks" or "OOTD, do it for the gram" type. Nevertheless, when packing, you should definitely keep in mind that the temperatures in California fluctuate a lot. During the day, it's usually very hot. Even if the weather app only shows 18 degrees, the sun is so strong that you are advised to wear short clothes. However, as soon as the sun goes down, the temperatures drop noticeably, and at night it is not uncommon for it to be below 10 degrees. In this respect, you should have everything in your luggage for temperatures from 7 to 30 degrees, especially on a road trip. I'm one of those concerned about the look of clothing, and I'm definitely not a Globetrotter camper. So if you are like me, you will be well-equipped with the following pieces – and presentable. 😉
(Down) puffer vest (a must in California anyway)

Boots/hiking boots (for hiking and looking cool)

Sandals / a second pair of presentable shoes for eating or getting ice from the machine.

Long and short leggings (Who doesn't love a pair of Lululemon, but Vuori is also very popular here).

Oversized (linen) shirts—look cool over leggings, keep you cool during the day, and relatively warm under a sweater in the evening

T-shirts / functional shirts

Sweater and/or hoodie (also standard repertoire in California)

Warm socks!

Swimwear!

At least one pair of sunglasses, preferably more. We always have one in the car for any trip, and I usually have more pairs in my luggage.

Caps, hats, beanies.

XX only: short tops or bikini tops (when it gets hot, you can take off your shirt or tie it around your waist and still be well dressed)
---
What else:
Bath towel/picnic blanket

Plastic tableware/cutlery for reuse

Sunscreen

Wet disinfectant wipes, handkerchiefs, and hand wash gels.

Trash bags (thank me later!)

Camera and equipment

Lightning cable, charger for cell phone & co

Offline music (in the USA, you often don't have cell coverage, especially in the national parks, and it's nicer to drive with music on long distances).

Several credit cards (some hotels/motels want to see two different ones—for security reasons).
---