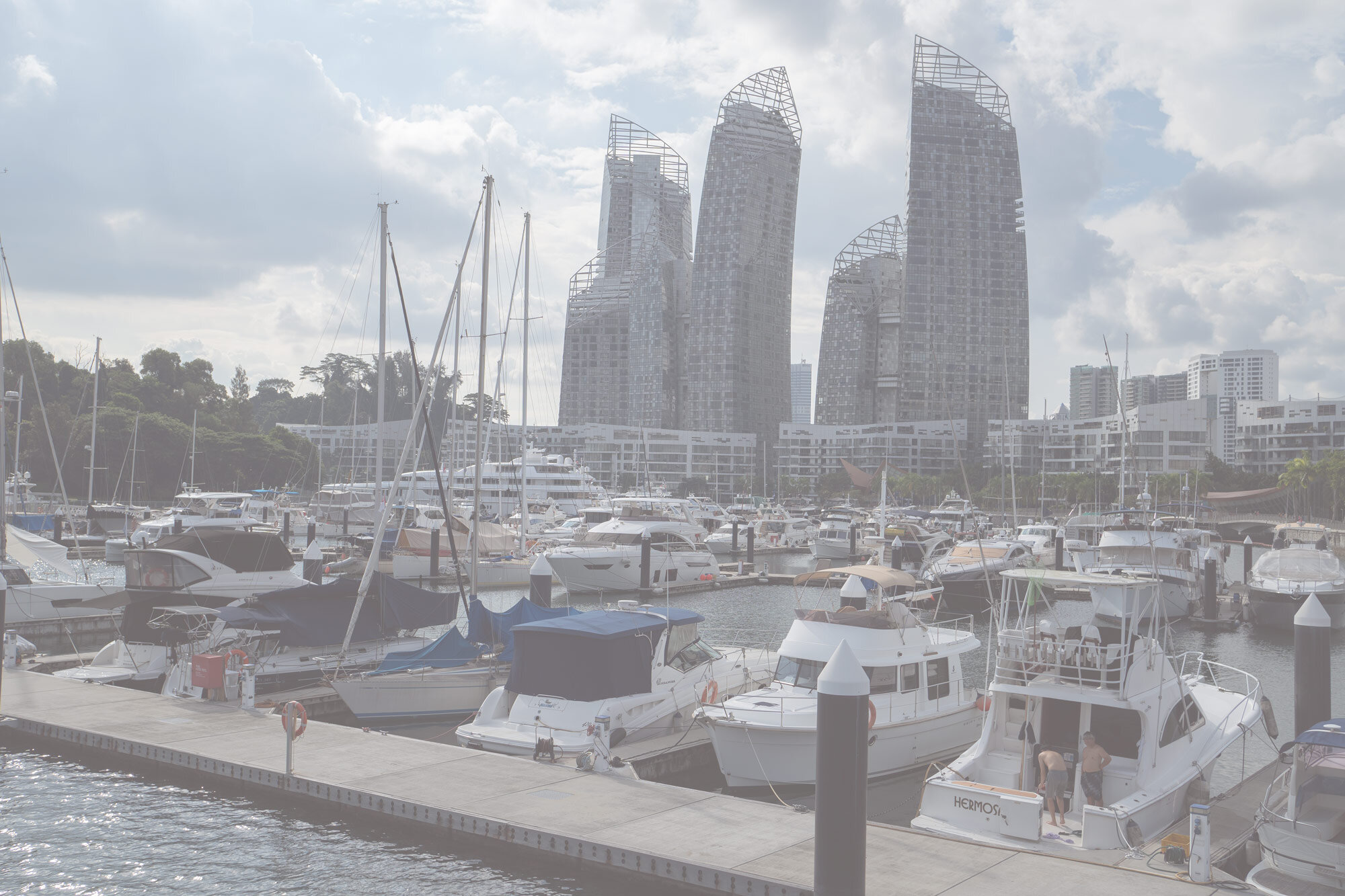 Relaxing marina vibes in Keppel Bay | Singapore Local Guide
Keppel Island and the bay and are worth a visit on a sunny weekend afternoon. Located on Singapore's only private island, the coastal area offers alfresco dining and stunning views of Singapore's southern shore.
Singapore is so diverse, I always find new places to explore. Just the other day I heard about Keppel Island for the first time – a tiny island in the Bukit Merah district on the Harbour Front, just opposite Sentosa Island. And what can I say? I was completely blown away. The 5.3-hectare island, with its maritime harbor and lovely restaurants along the waterfront, exudes holiday vibes at its best and is perfect for a weekend getaway. Luckily, I took my camera along and could capture the beautiful surroundings on a lovely Sunday afternoon.
Let me tell you a bit about Keppel Bay: With 5.3 hectares, the coastal area is big enough to house a few great restaurants and a waterfront walk, but small enough to explore everything on a breezy weekend afternoon. You can get to the small island via the Keppel Bridge, only to catch wonderful views of the luxurious marina and the modern residential area on the waterfront (which reminds me a lot of the Waterfront in Cape Town) with its glass towers reflecting on the water surface. Once on the island, you can sit down in one of the airy cafes and restaurants overlooking the bay, or walk to the southern tip and watch the sun set into the sea.
Despite its modern appearance, Keppel Bay is nowhere new or man-made (as Marina Bay is). Records show that sailors have been passing through Keppel Bay on their way to and from the Strait of Malacca and the South China Sea since at least the 13th century. The harbor bore many names over the centuries, including "New Harbour," but was renamed Keppel Bay in 1900 in honor of Captain Henry Keppel. He had taken refuge in Keppel Bay in 1848 when his ship needed repairs.
What to do and see in Keppel Bay
Below I'll show you the main attractions in the Keppel Bay area and of course give some recommendations on what to do there:
Marina at Keppel Bay Yacht Docking Area
With 168 berths that can accommodate up to 590-feet of superyachts, the pristine marina is the heart of Keppel Bay and provides holiday feelings par excellence. The Marina at Keppel Bay is known for its luxury yacht charter packages for private cruises around Singapore's Southern Islands. On a stroll, yacht-lovers will be able to catch a glimpse on many fascinating and luxurious boats, such as the 84-meter trimaran motor yacht White Rabbit.
Keppel Bay Bridge
The artful Keppel Bay Bridge connects Keppel Island and Singapore's mainland and carries the line for electricity, water, and other services. Thus, there is no getting around a walk or drive on the impressive bridge. With its 250 meters span and seven asymmetrical cables that rise 50 meters above the sea, the bridge offers spectacular views of the marina and the iconic, soaring curved glass towers at the nearby residence "Reflections at Keppel Bay".
The southern tip of Keppel Island
On the very Southern Tip of Keppel Island, you will find a boardwalk at the coast that offers a beautiful panoramic view of the South China Sea. To the right is the coastline of the Labrador Nature Reserve, and to the left is the popular recreational island of Sentosa. On clear days, you can also see the tanks on Pulau Bukom, an island a little further away. The sun sets just above the sea, making the southern tip of Keppel Island an ideal spot for a sundowner.
Labrador Nature Reserve
To the right from the Southern Tip of Keppel Island is the Labrador Nature Reserve which is part of the Southern Ridges, which also comprises Mount Faber Park, Telok Blangah Hill Park, and Kent Ridge Park that I have written about in a dedicated post. The Labrador Nature Reserve is an oasis of tranquility and natural wonders and ideal for nature lovers, with great activities as bird watching, fishing, barbecue pits, nine sets of fitness equipment for a workout in a scenic view of the sea and nearby islands.
Dining with maritime views
Despite its small size, Keppel Bay still offers a few great dining options, most of them with stunning views over the harbor and great food. Here are the four restaurants I can recommend:
Bayswater Kitchen
In keeping with the maritime setting, the Bayswater Kitchen offers mainly seafood, alongside a daily changing menu. Sitting on the terrace offers a beautiful view of the marina, the Mount Faber, and Sentosa Island.
2 Keppel Bay Vista (Marina at Keppel Bay), 098382
Tuesday to Friday and Sundays from 11.30 to 3 pm, and 6 pm to 10.30 pm, Saturdays from 6 pm to 10.30 pm, Mondays closed.
Privé
On Privés airy terrace you can choose between a lot of vegan, and international dishes from breakfast to lunch, as well as local specialities. Everyday from 5pm is happy hour that offers drinks and wine at discounted prices which makes Privé ideal for a sundowner with friends or boozy coffee and cake in the afternoon.
2 Keppel Bay Vista (Marina at Keppel Bay), Singapore 098382
Monday to Friday, 9 am to 10.30 am, weekends from 8 am to 10.30 pm.
Ristorante Palermo
Ristorante Palermo cooks authentic Sicilian food, bringing a certain Italian flair to Keppel Bay. Rustic, hearty cuisine is accompanied by a picturesque view of the sea.
#02-03 Keppel Bay Vista, 098382
Daily from 11.30 am to 3 pm and 5 am to 10.30 pm, Mondays closed.
Sushi Jiro
Specializing in fresh handpicked produce air-flown up to 4 times a week from Japan, Sushi Jiro serves up top quality seafood in authentic Japanese style in maritime ambiance and stunning views on the harbor, complimented with both modern and traditional Japanese touches elevated with service typical of Japanese hospitality.
#02-01 Keppel Bay Vista, 098382
Daily from 11.30 am to 2.30 pm, and 6 pm to 10 pm.
Activities in Keppel Bay
On the 5.3 hectares, Keppel Bay offers not only lovely dining options but also recreational facilities that offering leisure and sporting activities with stunning views onto the harbor and the greenery, such as:
KEPPEL CLUB
The Keppel Club is one of the leading venues for banquet function, birthday party, dinner & dance in Singapore. As one of the few courses located near the city, the Keppel Golf Links offers a unique golfing experience. The Keppel Club is Singapore's oldest golf club and still remains in its original location.
Bukit Chermin Rd, Singapore 109918
Tuesday to Sunday 7 am to 8 pm, Tee Times: 7.15 am to 916 am 12.05 pm to 2.06 pm, evening 9 holes 4.45 pm to 5.58 pm. ALL GOLF FACILITIES ARE OPEN FOR MEMBERS ONLY
THE VIVA GROUP
Singapore's premium Pilates and Wellness with unrivaled views overlooking the Marina at Keppel. The VIVA Group – Pilates & Wellness offers Pilates, manicures, and hairdos in a puristic, chic environment.
Marina at Keppel Bay, 2 Keppel Bay Vista, 02-02, 098382
Tuesday to Sunday, from 4 pm – 10.30 pm, Happy Hour from 4 pm to 7 pm.
Residences in Keppel Bay Area
Keppel Bay does not only offer recreational activities but is also a popular neighborhood for expats and locals. There are three residence complexes in Keppel Bay, the Reflections at Keppel Bay, the Caribbean at Keppel Bay, and Corals at Keppel Bay. The Reflections at Keppel Bay has won international awards for its design and architecture but also for the accessibility features of the condominium. The six distinctive curved glass towers are seen from far away and offer panoramic views of Mount Faber and Sentosa.