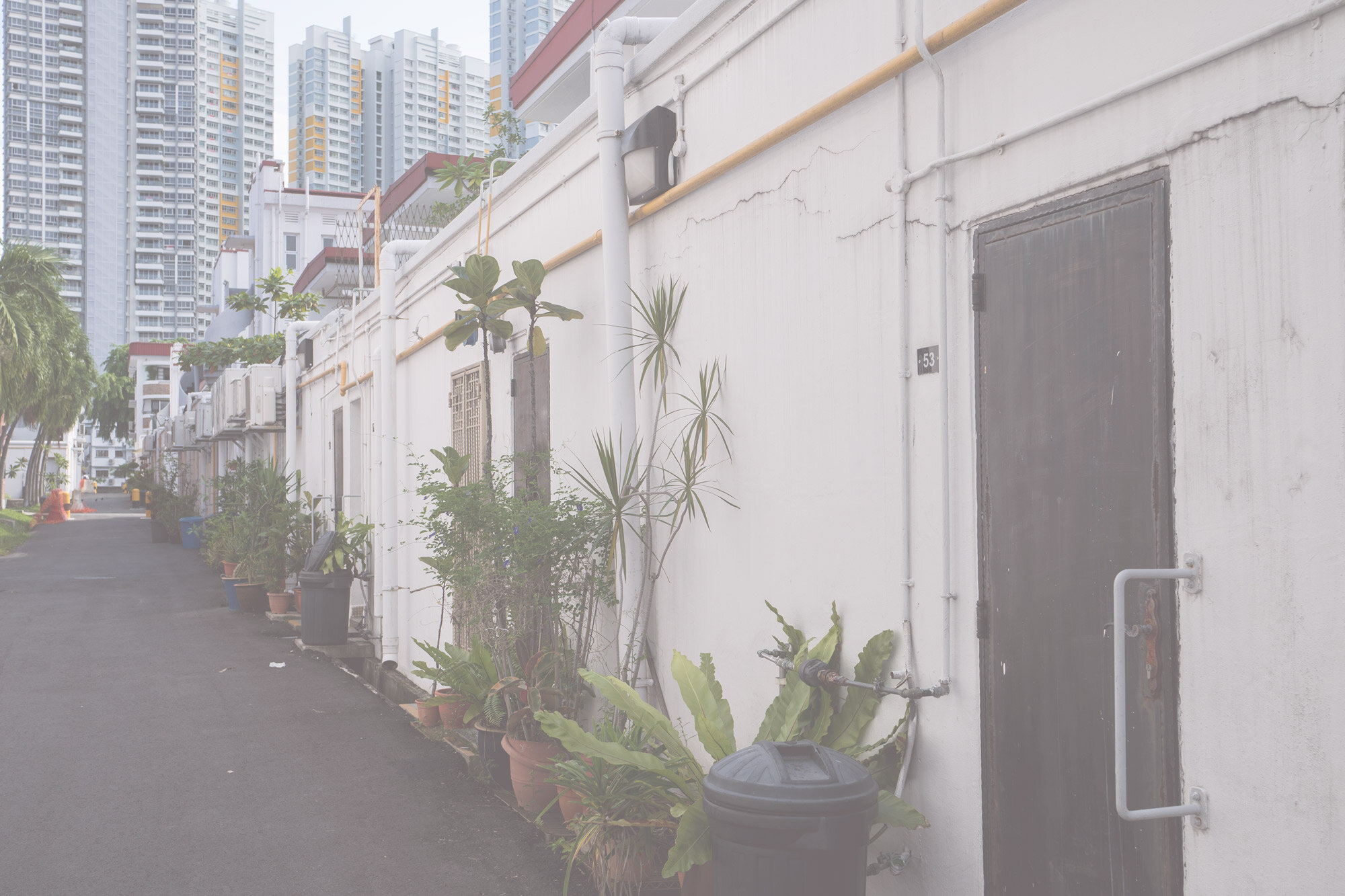 Singapore's hippest (and oldest) neighbourhood – Tiong Bahru
I can't get enough of Tiong Bahru. Hence the neighborhood was the first to visit in our travel through Singapore that we call our home since October 2019. And what could be better to start there than Singapore's oldest residential area? Exuding old-school charm and art deco design, time stands still at the quaint alleys of this hip heritage neighborhood. And although Tiong Bahru is one of the most popular districts in Singapore, it is still considered a real insider tip among travelers and new expats alike. In Tiong Bahru, you will find cute breakfast cafés, small boutiques, beautiful flower shops, and street art in winding alleys.
I will point you in the right direction with my neighborhood guide to Tiong Bahru. I will tell you what makes the district so unique, what you can do there, and of course, where you can get the best coffee.
By the way: If you are looking for landmarks, you will not find those in Tiong Bahru. Instead, you will detect a historical Singapore that mixed with the modernity results in a very unique, authentic place.
Location
Tiong Bahru combines the words 'thióng', meaning 'grave' in the Hokkien dialect, and the word 'bahru', which means 'new'. Guess what; the name was used by locals to refer to a 'new cemetery'.
The charming district may be calm and sleepy, but it is actually located in the Central Region of Singapore. To be exact here, it is in the west of China Town and south of the Singapore River. To the south, Tiong Bahru borders Tanjong Pagar, another trendy district. Most of the activities take place in the south-east of the city. Between Seng Poh Road and Tiong Poh Road, as well as on the u-shaped Moh Huan Terrace, you will find most of the lovely cafés and boutique shops.
What makes Tiong Bahru so unique?
Due to the long existence of Tiong Bahru as a district, its architecture is also extraordinary. As Singapore's oldest housing estate, the building height here is low-rise compared to the rest of the city center. This makes Tiong Bahru much quieter and more tranquil than other parts of Singapore.
All around Tiong Bahru, you'll see apartments that were built pre-war. Typically, they were designed in a late Art Deco movement called Streamline Moderne, which explains the clean curves, rounded shapes, and simple, long lines.
If it wasn't for the large HDB flats in the background, one might think one was in Miami rather than one of the oldest districts in Singapore.
Between the houses there are narrow alleys and back doors of the houses. At some of the apartments you can also see a lot of laundry and garbage. This's is not very appealing, but it somehow is part of the charm of Tiong Bahru.
Generally, Singapore is very clean, and you will not find any illegal graffiti anywhere. In Tiong Bahru, however, you'll find many art wall murals in alleys, painted by popular street artists. These make the district very colorful. Also, there are many plants everywhere, in pots even, not belonging to any household but rather decorate the streets and alleys.
In comparison to other neighborhoods of Singapore, there are relatively small areas covered in green, as there is only one park in Tiong Bahru. The park is also a bit of a walk from Tiong Bahru's hotspots and opened in late 2018. For residents, the Tiong Bahru Park might be a great place to spend weekends (especially with children), but other than that, I wouldn't count the park in one of the significant attributes that Tiong Bahru has.
I wouldn't visit Tiong Bahru because of their parks as a primary reason as there are nicer ones in other districts. But there are still a lot of nice things to do, like drinking super delicious coffee or strolling around. The community stands out from others because of the many delicious culinary offers.
What to do in Tiong Bahru
Indulge! Eat! Repeat! Yes, really. There is no other district in Singapore that offers so many great coffee shops in such a density. Many of them have inviting terraces in front of the shop where you can relax and enjoy the sun. Also, instead of huge shopping malls, you'll find cute little boutique shops that idyllically integrate into the pretty Art Deco houses. For some reason, there are many French shops, such as Merci Marcel, the Tiong Bahru Bakery, the French Book Shop, or Ask a French Flowers in Tiong Bahru so that you can expect outstanding quality in food and service.
For my part, I prefer to spend the weekends in Tiong Bahru, because it is the perfect place to slow down. I like to get a Pain Au Chocolat from Merci Marcel, flowers at the Tiong Bahru Market, drink a glass of rosé Merci Marcel's patio, or meet up with friends for dinner at the Bakalaki Greek Taverna. In between the many meals, Tiong Bahru offers beautiful boutiques to stroll, browse, and shop.
Foodie-Guide
There is no other district of Singapore, where you can enjoy authentic European cuisine and bakeries in such an idyllic ambiance. Besides the very popular Hawker Stalls in Tiong Bahru Market, Tiong Bahru is home to French bakeries and European cuisine. Most of them feauture alfresco dining too, which is a big plus for me! My favorite cafés, bakeries, and restaurants in Tiong Bahru are presented below:
COFFEE SHOPS AND BAKERIES FOR BREAKFAST AND BRUNCH
x Merci Marcel Tiong Bahru, 56 Eng Hoon St, #01-68, Singapore 160056 – The food's pretty authentically French, and they offer one of the best pain au chocolat and rosé wine in town (look for the "'Palm' wine in their wine cooler!)

x Forty Hands, 78 Yong Siak St, Singapore 163078 – a little yet cosy café located amidst quaint galleries and residential buildings. They serve CMCR coffee which is known to be outstanding.

x Plain Vanilla Bakery, 1D Yong Siak St, Singapore 168641 – the flagship store of popular bakery is housed in an old shophouse repurposed to suit the needs of a bakery, cafe and retail store.

x Tiong Bahru Bakery, 56 Eng Hoon St, #01-80, Singapore 160056 – You simply can't think of Tiong Bahru without Tiong Bahru Bakery coming to mind – the two are as iconic as each other. The bakery sells very authentic bread, croissants, pastries and viennoiseries.

x Flock Café, #01-25 Tiong Bahru Estate, 78 Moh Guan Terrace, 162078 – Indie coffee shop serving latte art coffee and delicious breakfast.

x Tiann's, 71 Seng Poh Rd, #01-35, Singapore 160071 – Gluten-free Café & Bakery, hand crafting baking goods from scratch with no refined sugar and no gluten.

x Creamier Handcrafted Ice Cream and Coffee, 78 Yong Siak St, #01-18, Singapore 163078 – creamy and very popular ice cream shop.
Lunch & Dinner
x PS.Cafe Petit at Tiong Bahru, No. 41, Blk, 78 Guan Chuan St, 160078 – Another branch of the popular chain with delicious, international cuisine and beautiful ambience.

x Bakalaki Greek Taverna, 3 Seng Poh Rd, Singapore 168891 – the best and most authentic Greek in the city (or probably all of Asia!). In the deli, you can also find one of the best Greek wines as well as authentic ingredients to cook your favorite meal at home.

x The Butcher's Wife, 19 Yong Siak St, Singapore 168650 – A cosy backyard bistro with modern, European cuisine.

x Tiong Bahru Market, 30 Seng Poh Rd, Singapore 168898 – locals and insiders come here mostly. On the ground floor there is a market selling vegetables, meat and fish, and there are also some popular Hawker Stables.
Shops and boutqiues
Tiong Bahru is known for its small shops and boutiques. There, you can find beautiful and individual pieces off mainstream. There is also some delicate bookstores that sell selected books and cute little flower shops for individual bouqets.
Boutiques
x European Bedding, Level 2, 32 Eng Hoon Street, Singapore 169780 – Here you will find high-quality bed linen made of bamboo and silk, made to measure on request (especially important for Europeans who have brought their own bed 😉 )

x Maissone Home, 25 Yong Siak St, Singapore 168653 – A shop for home accessories with very modern, selected small and large items. It is always worth browsing here.
Book shops
x The French Bookshop, 55 Tiong Bahru Rd, Singapore 160055 – As the name suggests, there are mainly French books here, both vintage and new.

x BooksActually, 9 Yong Siak Street, Singapore 168645 – a small, cute bookstore where every book seems to be selected with great care and love.

x Woods in the Books, No. 3 Yong Siak Street, Tiong Bahru, Singapore 168642 – a cute children's bookstore
Flower shops
x Ask a French Flowers, Tiong Bahru, Singapore – Aude ties beautiful bouquets here in a modern, natural style.

x Tumbleweed Plants, 55 Tiong Bahru Rd, #01-02, Singapore 160055 – here are modern #greenery plants and beautiful pots and porcelain.

x One Olive Floral Boutique, 61 Seng Poh Ln, #01-01, Singapore 160061

x Tiong Bahru Market, 30 Seng Poh Rd, Singapore 168898 – on ground level you can find some great flower shops with a huge selection and affordable prices.
Where to stay
x The boutique-style Nostalgia Hotel offers stylish guestrooms are elegantly furnished to reflect the Singapore's colonial heritage.

x Housed in a round building, the D'Hotel Singapore combines classic and modern décor with great views on to the city.
***This section contains affiliate links. For more information, see my disclosures here.
---