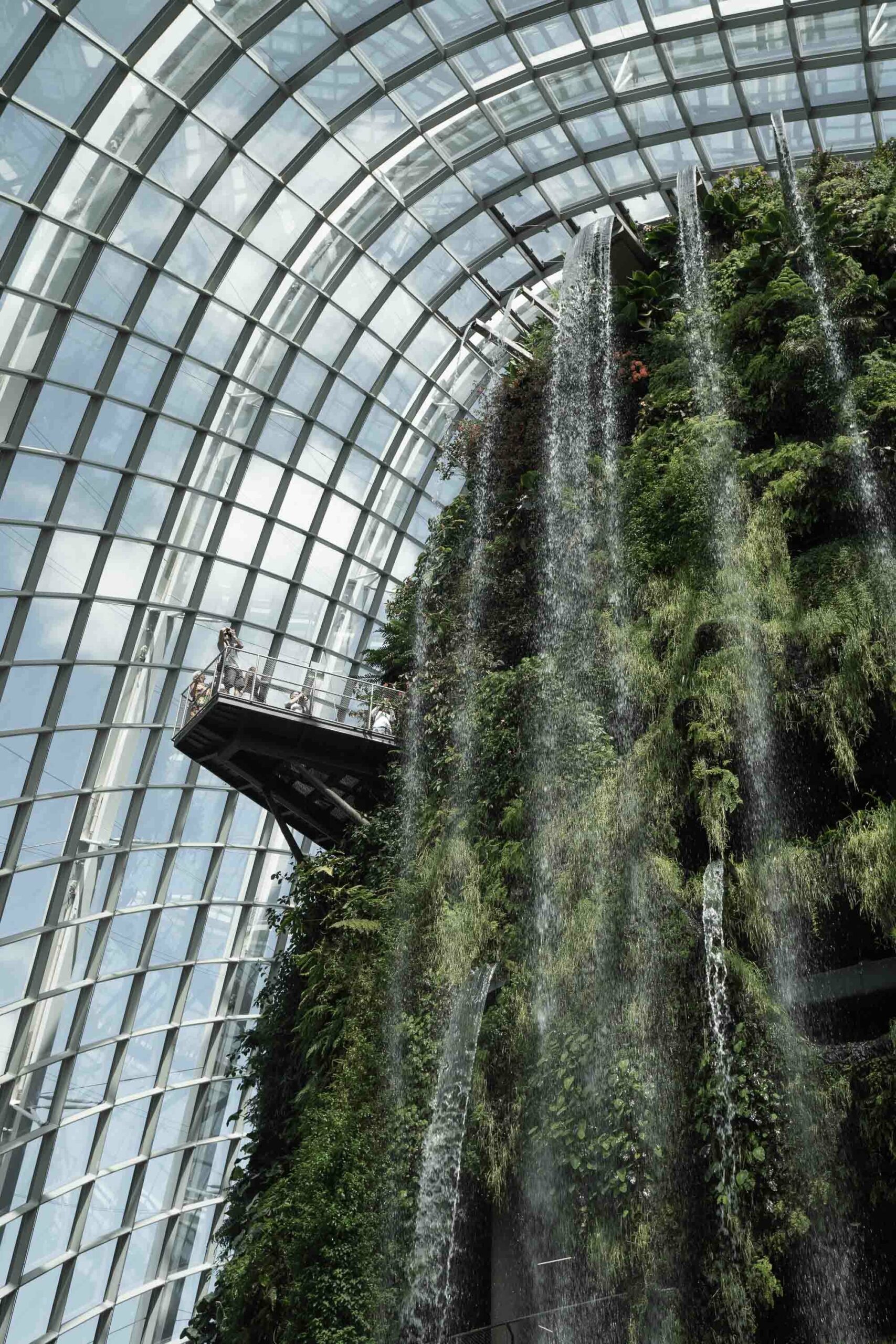 Flower Dome & Cloud Forest
You may know, Singapore is pursuing the strategy of turning the garden city into a city in nature so that green corridors improve the quality of life for us residents. Thus, former promenades and parks had to clear the way to make the city even greener and more restful. One of the results is the Bay South Garden. It is hardly possible to overlook the area on the waterfront in Marina Bay. Two large, futuristic buildings rise out of the green of the Gardens by the Bay, designed with ecological sustainability in mind: The Flower Dome, and the Cloud Forest. Both domes were designed by the British architectural firm Wilkinson Eyre and named "Building of the Year" by the World Architecture Festival in 2012.
Flower Dome
The Flower Dome is slightly larger than Cloud Forest and listed 2015 in the Guinness Book of World Records as the largest glass greenhouse in the world, with an area of 1.28 hectares.
The Flower Dome features a changing display. It shows typical plants from Mediterranean or semi-dry climate, such as California and South Africa with more than 32,000 plants, olive trees, succulents, the Chilean Araucaria, and many more among them. I liked the various succulents in their different colors the most that are exhibited in the Succulent Garden and bathe the hall in a beautiful, velvety green.
---
Cloud Forest
Slightly higher but smaller at 0.8 hectares, the Cloud Forest mainly shows the vegetation zone of the tropics at 1,000 to 3,000 meters above sea level. A 35-meter-high tower represents a mountain covered with typical representatives of its fauna, such as orchids, ferns and bromeliads. In the middle, a vast waterfall falls from the tower. At the top of the tower, there is currently an exhibition with all kinds of carnivorous plants, which I found particularly interesting. Through the hall, a 128-meter suspension bridge galleys between supertrees and presents the visitors a bird's eye view on the dome.
Overall, both conservatories met my personal liking. I enjoyed the afternoon in both and am looking forward to be back for a visit any time soon.