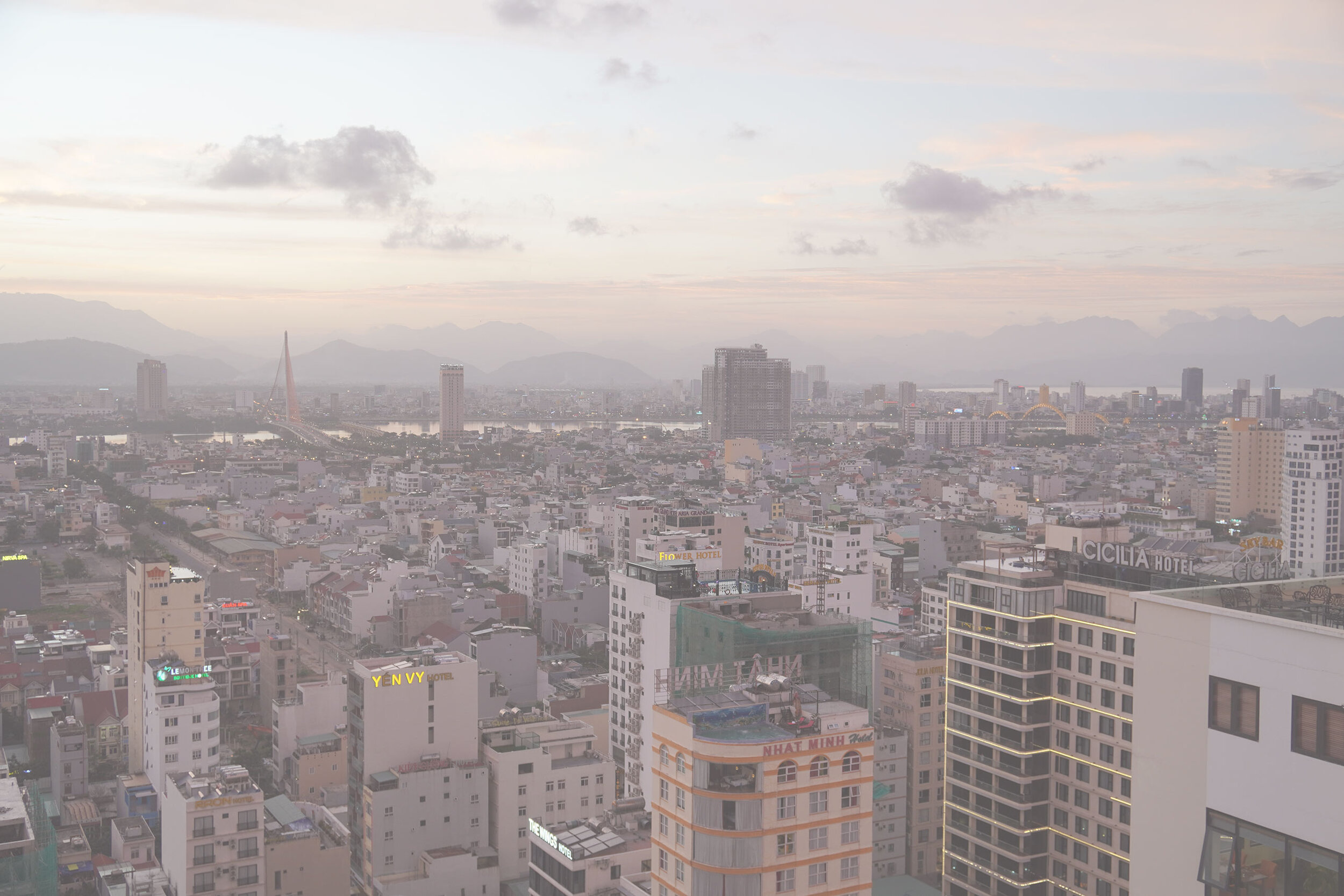 New Years in Đà Nẵng
If someone had told me I would spend New Year in Vietnam, I would have looked at him puzzled. That said, we were in Vietnam for the first time.
Having moved to Singapore in October, we wanted to make up our vacation days as much as we could. And since January 1 is a holiday in Singapore and Daniel had a few vacation days left for the old year, it made sense to fly somewhere else to explore Asia.
But sometimes the obvious choice isn't the best choice. Out of all possible destinations, we chose Da Nang. Happening to be only the fourth largest city in Vietnam, I personally never had heart about it before (while I obviously knew Hanoi and Ho Chi Minh City). Daniel, however, had a few colleagues that were recommending Da Nang to him. Located at the sea, the vibrant city offers not only cultural highlights but also beautiful beaches.
And since we had spent enough Silvester nights in the cold (as in Germany, it's usually freezing), we couldn't wait to watch the fireworks in a warm environment for the first time in our lives. The flights were also pretty affordable (considering we only booked them days before we actually went to Vietnam) and so it happened that we were in Vietnam for the first time ever.
The hotel we chose featured a beautiful rooftop terrace, overlooking the city and the famous Dragon Bridge but also the sea. From where we planned to watch the fireworks too. We were lucky enough to get offered a room on a higher floor level with a balcony that also offered breathtaking views over the city. Unfortunately, the fireworks on New Year's Eve never happened. They have been canceled on short notice due to the rain. That was a really bummer but besides that, we enjoyed the days in Da Nang and I'd like to guide you a little bit on what you can do while in Da Nang. So here we go with my travel report:
In total, we spent seven days (incl. arrival and departure day). December is low season in Da Nang so that it can get quite chilly and less sunny. It could rain every day (sometimes heavily) and the sun sets at 5 pm, which makes the days seem relatively short. We were fortunate with the weather, as we had temperatures between 23 and 26 degrees, and except for New Year's Eve, it didn't rain and the morning fog usually cleared its way to a ray of beautiful sunshine by noon.
About Đà Nẵng
Da Nang is a coastal town where the Han River separates the center and the beach. You can imagine it a little bit like Miami and Miami Beach (or just have a look at Google Maps 😉 ) Our hotel was located at sea, so it was more or less in Da Nang Beach. There is a central coastal road, which separates the actual sandy beach from most hotels (so you have to cross the way if you want to lie on the beach). There is also a promenade alongside the beach where you will find bars, cafés, restaurants, and outdoor gyms.
Unfortunately, the weather didn't invite us to lie on the beach. It was often too cold or too windy, and the sun was also so low that the impressive hotels at beachfront usually covered it. Therefore, we used the promenade mainly for walks, a thing that we enjoyed.
Food in Vietnam
My favorite subject. Well, besides the sun, beach, and sea. Food in Vietnam is indeed delicious and at unbeatable prices. I already loved Vietnamese food in Berlin, especially during the lunch break, and I was looking forward to Phở Bo, Curry Rice, and Bun Bo Nam Bo.
Right after we arrived at the hotel, we were craving a Vietnamese Pho soup and went to the hotel restaurant that had a lovely outdoor terrace, overlooking the beach and the promenade. The Pho soup was that good; I had one every day more or less.
Below is a list of the restaurants, cafés, and bars we tried and we can recommend:
x ROOTS PLANT-BASED CAFÉ
> healthy and incredibly cheap
x SAVOUR RESTAURANT
> for the daily dose of Pho!
x SKY VIEW RESTAURANT
> top floor, significant, but relatively expensive dinner)
x WANDERLUST COFFEE & COCKTAIL BAR
> Perfect Whiskey-Sour with a Twist (Happy Hour for 2$!!)
x 43 FACTORY COFFEE ROASTER
> Special designed restaurant, delicious coffee, but unfortunately messed up staff
x WHY COFFEE ROASTERY
> We didn't go there, unfortunately, but it looks appealing. It's on my list for next time!
Hoi An
One day we made a trip to Hoi An, which was warmly recommended to us by many in advance. As this was a journey itself, I have written a separate blog post about Hoi An.
Marble Mountains
On the last day of our trip, we went to the Marble Mountains, a cluster of five marble and limestone hills located in the south of Da Nang. The Vietnamese name is Ngũ Hành Sơn which translates to "the mountains of the five elements.". And indeed, the mountains are named after the five elements: Kim (metal), Thuy (water), Moc (wood), Hoa (fire) and Tho (earth).
The area around the Marble Mountains is known for the sale of marble and handicrafts. However, nowadays, the building material is mainly sourced from China, as the Marble Mountains in Vietnam have already been grazed. Today, they are a popular tourist destination because there is lot to explore and also an amazing view from the top.
Inside Thuy Son
All of the mountains have cave entrances and numerous tunnels, but as for my understanding, only the Thuy Son (the mountain of water) is accessible for tourists. Thuy Son is the largest and most famous of the five Marble Mountains, with a number of natural caves in which first Hindu and later Buddhist sanctuaries have been built over the centuries. Inside, I did not feel comfortable, though. The temple cave called Huyen Khong, which is as big as a cathedral and has an equally vaulted ceiling, is very dark, though pale sunlight falls through several holes in the ceiling. An extremely steep and narrow staircase leads outside through a hole. My oppressive feeling didn't get better, but slightly worse when climbing these stairs. The top is worth the climb though because from there, you have a beautiful look over the city. I, for my case, found the descent more pleasant, and I was glad when we left the cave.
At the top of Thuy Song
Next, we took the glass elevator up to the top of the mountain Thuy (the peak of the mountain cluster named after the water element) though I have been told it's worth walking the few steps that lead to the summit, too. On the top, you will not only have a panoramic view of the surrounding area and the other marble mountains. There are also plenty of well decorated and nicely arranged gardens, ponds, and pagodas, and it is worth strolling around and enjoy the peaceful environment on top of the mountain Thuy.
Drinks at the Beach
Eventually, we left the summit, but this time we walked down only to see the impressive views once more. Back at sea level, we ordered a Grab and went back in the direction of our hotel. We were a bit hungry, but it happened to be such a beautiful day that we wanted to spend the last few hours in the sun. Hence we chose a beach bar that also serves food and had some drinks and snacks.
Afterward, we hurried to get quickly to our roof terrace because the cloud formations gave hope for a fantastic sunset. And we were not disappointed. For the first time, we could see the mountains on the horizon (before the city had been too hazy or covered by fog and dust, or the sky had been too overcast). The sunset bathed Da Nang in a beautiful purple-orange, which we also captured with our film camera for our vlogs… Luckily we still had a drink on the house at our hotel, which Daniel ordered for both of us, and so we sat on our roof terrace the last evening, drinking our Whiskey Sour and watching the sunset.
Bye Da Nang, you were beautiful!
---
— If this article helps you travel, please book your trip via the links on this page or through the banner in the sidebar. This will earn me a small commission at no extra cost to you. Thank you for your support!
---