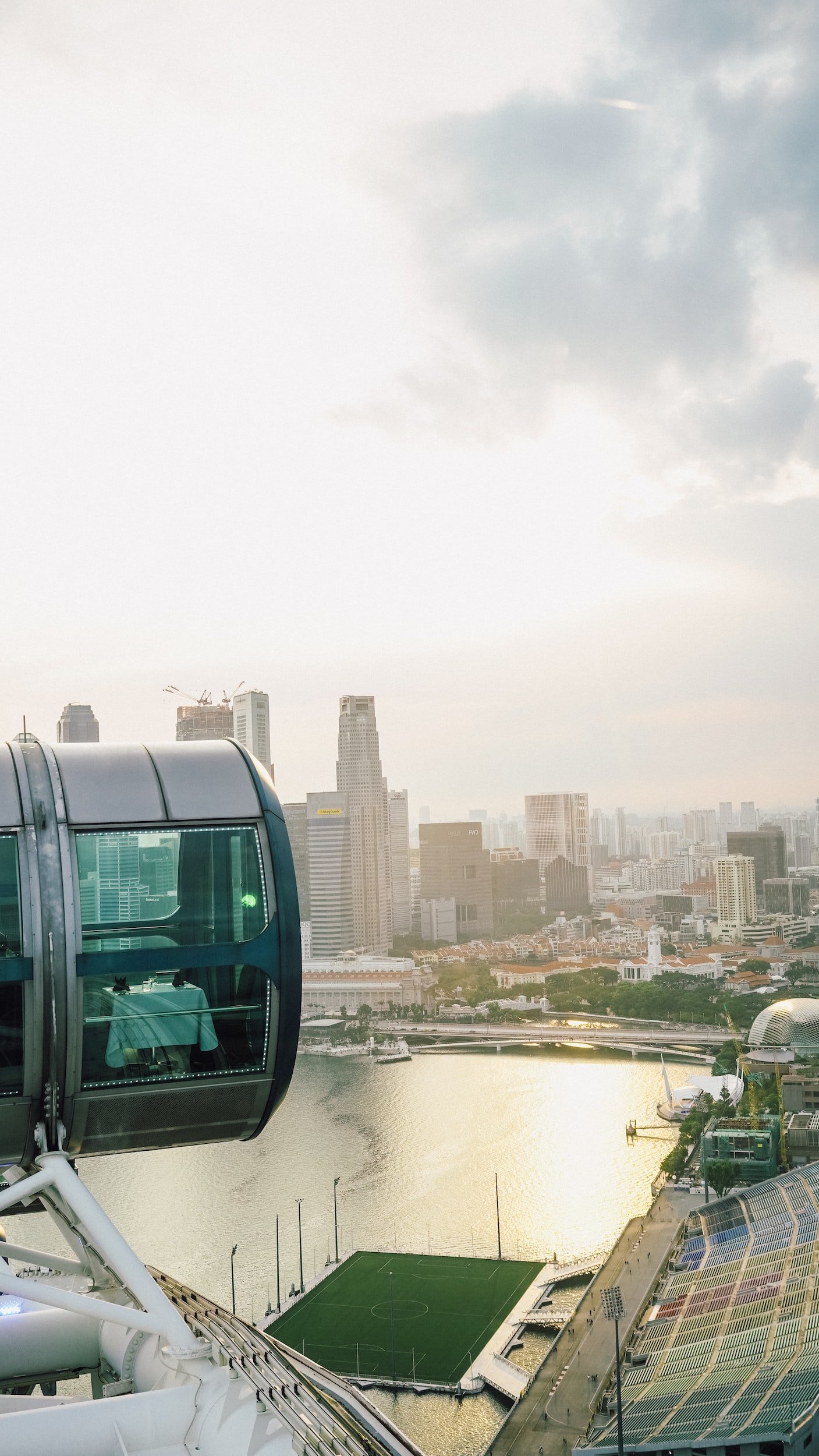 Why the Look-And-See-Trip is so important for the decision to move abroad
After Singapore was on the table as a potential new country to live in, we wanted to see the city-state upfront. We had never been to South East Asia before and therefore had no idea about the country, its people, climate, politics, and many other things. So we did not know at all what to expect. That's why Daniel's company organized a trip to Singapore, for him and me.
A look-and-see-trip or pre-move-visit is precisely what it says: a chance to look around your prospective new home and see what's there. It might be sponsored by the company that sends you abroad and also means an excellent opportunity to familiarize yourself with the country and even the local company that hires you.
Depending on the lengths of your trip, you might not develop more than a gut feeling, but that could be enough to make a decision eventually. At least, after the look-and-see-trip, you will have an idea of whether you can see yourself living in the country for the next couple of years, or rather not.
We have heard of people who had actually never seen the country they were moving to. And while I am in awe for their braveness, I can only recommend going to the country upfront. If your company is not offering anything such, you might also be able to organize a private holiday.
You are not on vacation.
During the trip, it is essential to look at the country as you were a resident. There is, of course, a big difference in traveling to a country (or a city) as part of a holiday trip, or possibly moving there. During a holiday you usually visit the beautiful corners, the tourist attractions and sights, and some excellent restaurants. You may also have a bigger budget, would be more relaxed and less interested in social facilities such as the potential office, public transport connections, liveable districts… Surely, you will also come into contact with the culture during a holiday here and there. However, let's face it; this is often very limited, sometimes so-called "cultural attractions" are even posed scenarios for tourists. How often do you talk to citizens during a holiday or come into close contact with them, especially in reserved cultures?
Questions you should ask and priorities you should make
For us, the social aspect was especially important. We wanted to know how to make social contacts or even friends in Singapore and where people our age live.
Equally important were the residential areas. We asked ourselves which ones would suit us, would be well-connected, either to the MRT (the local transport system) or also to shopping facilities and restaurants. We also preferred to live relatively central at best, so that we could use and experience the city in the best possible way. At least that was our idea. Thereby, we assumed to live in an apartment again, but theoretically, it could have been a house. We had no idea what the flats or houses in Singapore looked like, not to mention the costs. We also wanted to learn more about the distribution of the citizens in the residential areas, because expats and locals live quite separately in Singapore. There are whole residential complexes only for expats, so-called "condos", which are usually more expensive but also equipped with luxurious facilities. The security aspect also played a significant role for us. We did not know which areas were considered safe or less safe to live.
We had learned that Singapore is one of the most expensive cities in the world to live in. That's why we also had to deal with the cost of living. We quickly asked ourselves if the offered salary was enough for the apartment, but even grocery shopping and, of course, for going out for dinner and drinks, membership in a gym, and traveling.
Further information about public transportation was also necessary, as it soon became apparent that we would not have a car in Singapore. (Cars are almost unaffordable!) So we had to use means of transport, but we had no idea about prices and connections in advance.
We could list many more questions, but we think you understand: there were countless things to be clarified and, above all, to experience on-site. That's why the Pre-Move-Visit was of considerable importance for us.
Our Pre-Move Visit
In July 2019, we went on a five-day trip (pre-move visit) to Singapore. Due to the time difference and the long flight time, we only had four full days on-site. Ninety-six hours to get a feeling and to make a final decision…You may ask yourself, how does something like take place? Of course, we can only tell you about our very personal trip, which surely differs individually, but we are happy to share our experience:
Day I
Due to the time difference and the long flight, we landed in Singapore on a late Sunday afternoon. Although we flew only with hand luggage, it took us a while to get our belongings and arrive at the hotel. Singapore welcomed us with beautiful sunny weather and palm alleys on the way from the airport to our hotel. There, we first took a shower to freshen up and then met up with a friend near the hotel in Boat Quay. The friend has been living in Singapore for quite a while and led us – along the water – to the iconic Marina Bay Sands hotel. It was a great first impression to see the iconic hotel on the waterfront at sunset. After a while, we went to a local restaurant (Swee Choon), which, quite honestly, took some time to get used to it. But it was pretty delicious.
Nevertheless, skepticism began already to show that evening. Singapore was more "Asian" than we had expected and suddenly we were not so sure anymore if we could really imagine living in this city-state… But we had just arrived and still had more than 80 hours to decide 😉
On the first full day, we were pretty jet-lagged. It was tough to get up. At first, we went to Daniel's company, discussing the new role and the contract details. We had an appointment for lunch, but our appetite had not yet reached the new time zone, and the smells in the Hawker Center spoiled our hunger. Afterward, we were given a short tour of the building, were allowed to meet some colleagues, and then talked to the supervisor and the personnel department. In the end, we stayed in the office much longer than planned and arrived just in time for sunset in the city center.
We strolled through Fort Canning Park for a short time and then had dinner at Chimes, which our friend had recommended to us. It was our first meal of the day as we had only chocolate croissants for breakfast, and we skipped lunch. We talked a lot and recapitulated the day and the first impressions.
Side note: Daniel's office is not in a modern building in the CBD, but an industrial area on the outskirts of the city. There is only one subway line going there. Although Singapore has an ultra-modern, neat, and efficient transport system, it is honestly not yet as well-developed as in other major cities of the world. Since Daniel didn't want to have a long commute time, the possible residential areas were, therefore, minimal right from the beginning.
Day III
Unfortunately, the next day started for us in the middle of the night when Verena was woken up by a bad migraine attack. It turned the night into a nightmare. Unfortunately, we couldn't open a window in the hotel room, and so we went (after some terrible hours) at 7 am to the hotel pool and watched a bit resigned how the sun rose.
Actually, a guided tour through Singapore with the relocation company was scheduled for this day. We did it – completely overtired and armed with painkillers – but we were really on our nerves. Too many impressions, which should influence such a significant change in life, had already left their traces. The goal of the 6-hour tour across Singapore was to show us not only the well-known neighborhoods in the CBD (Marina Bay Sands) but also other typical residential areas for expats, such as Bugis, Holland Village, Tanjong Pagar, and Robertson Quay.
We were fortunate with our guide Jessica because she adapted very well to us and changed her planning flexibly according to our needs. First of all, we drove directly to a Hawker Center with Wet Market right next to it. By just looking at our faces (Daniel doesn't like the smell of fish and Verena felt sick due to the migraine anyway), she changed her route completely and showed us different areas and attractions than they were on the plan. Jessica told us during the tour for each district, everything about the MRT accessibility and connection to work, nearby shopping facilities and institutions, and background information on demographics.
Right after the little negative experience at the Hawker Center, she showed us directly a residential area, which she was convinced we would like. And indeed (spoiler!), we were so impressed, it was immediately clear to us that this area would become our new neighborhood. Even though we, unfortunately, did not have the opportunity to see the inside of an apartment, we had a much better feeling after the day. We could imagine moving to Singapore much better. So, if you have the opportunity to get such a guided tour, make sure you take it and also make sure that you see what you are interested in.
Day IV & V
In the remaining last days, we mainly explored different areas of Singapore. We went for a walk in the Botanical Garden, had breakfast in various cafés, and went up to the Cé La Vi on top of the Marina Bay Sands Hotel. We had a special evening with dinner at 200 meters while looking at the city from above. We also went back to the area (Robertson Quay) we liked best the day before, and we already imagined what it would be like to live there. Where would be the next supermarket, delicious restaurants, shops, cafés? We also used the time to go shopping "imaginary" in typical grocery stores like FairPrice and Cold Storage. We had prepared an Excel list with the groceries we bought in Berlin every week and walked through the shelves and calculated the shopping with it. This helped us to realize how expensive living in Singapore is: our weekend shopping was more than twice as expensive as in Berlin.
On the evening of the 4th day, we went back to Berlin. Just for the record, Changi Airport is a very modern airport, you have to give Singapore credit for that. Quite frankly, we left Singapore with mixed feelings. We definitely enjoyed it, and it was beneficial for us to experience the city. But even though many of our questions were answered, a lot of new questions and uncertainties arose during the pre-move-visit, which now had to be clarified in Berlin.
For this reason: We can highly recommend the pre-move-visit to anyone who is considering moving abroad. Especially if you are going overseas for a company and you have never been to the country before. At best, the employer should, of course, allow you to make the trip at their expense. But even if not, you should do it anyway and, if necessary, pay for it yourself. You will not regret it, I promise. If you want to move to a country independently of your employer, the situation is different. In this case, you have probably already been to the country, and you felt in love with it. But even then it is worth the trip and the examination of the new "home" from a different perspective: one of the new home.
---