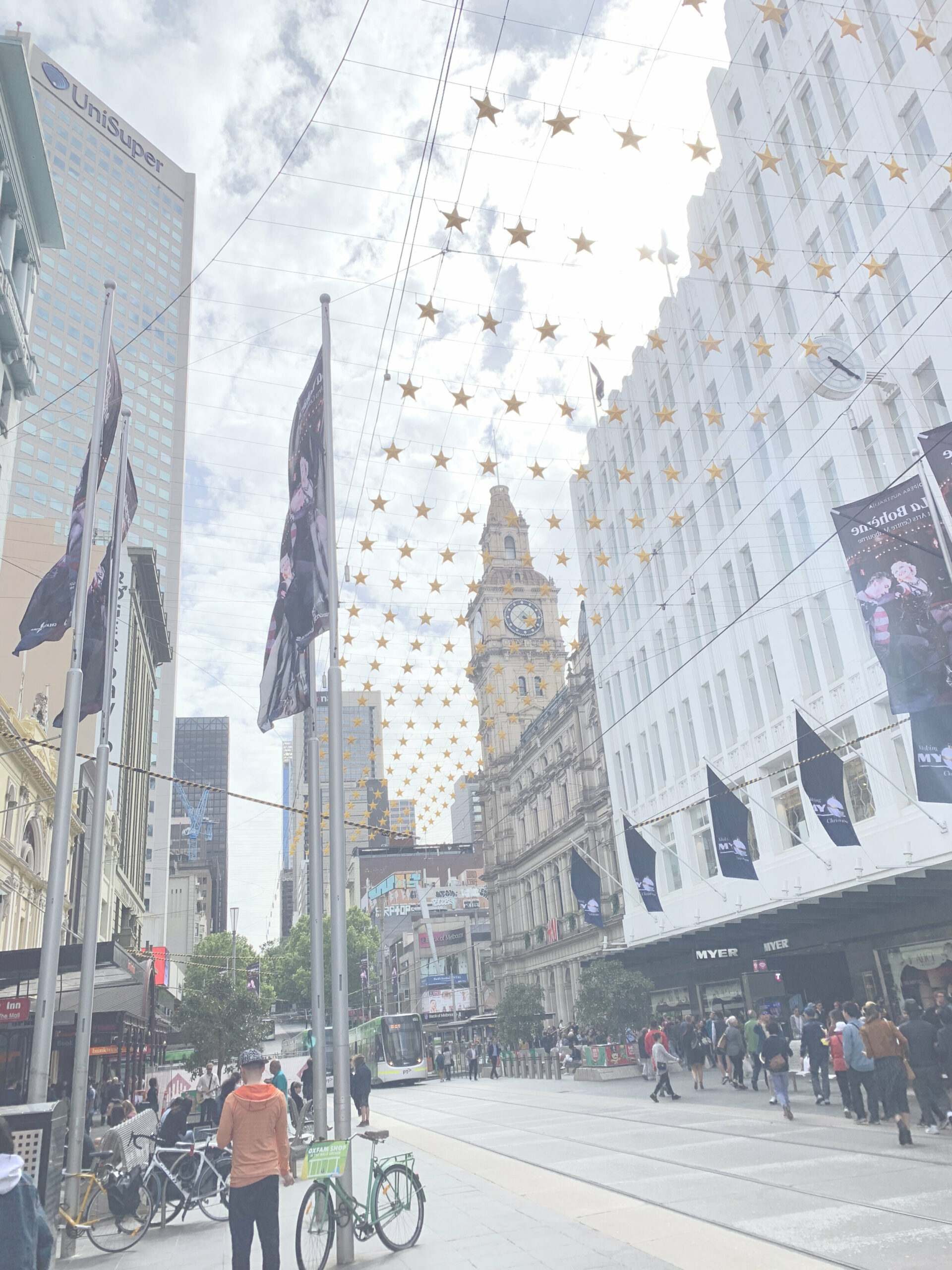 Coffee, drinks, and lots of shopping in Melbourne | Travel Diary
Whenever I look back to Melbourne, I think mainly of coffee, alleys, and sunshine all day long. Of course, you can't limit a city like Melbourne to three things, but for me, they definitely made the city.
Melbourne has been awarded several times as the most livable city in the world (and only this year lost its first place to Vienna). For me, good coffee and a lot of sunshine would (almost) be enough (haha), but the "Economist Ranking" is probably more based on criteria like infrastructure, education, or sufficient health care. By the way, Sydney and Copenhagen are also among the top ten. All in all, we spent three days in Melbourne, and I would generally say that this is enough as first impressions. In my opinion, there is nothing in Melbourne that you "must" see. Even most of the websites, blogs, and people you ask recommend to just walk around the city, explore it on your own and: drink lots of coffee. Apparently, Melbourne is known for its excellent coffee.
DAY I
As we arrived in Melbourne late in the evening, most restaurants and shops were unfortunately already closed. We went to bed hungry, but only to start the next morning with a rich breakfast. Luckily, there was a very nice café just around the corner: the Ciel Café. A rating of 4.8 stars (2018) speaks for itself, doesn't it? And indeed, the coffee was heavenly, and the food was not only delicious but was also opulently decorated (there were pearls and flowers on the pancakes!!).
After breakfast we went straight into the city: Over the Yarra River, past Flinders Street and the Immigration Museum, and through the CBD. The goal of the day: to explore the city by foot and drink as much as possible coffee…as we were recommended to do. The Patricia Coffee Brewers are said to brew the best coffee in Australia beyond the borders of Melbourne. That's why we headed there first. Situated in a small backyard, the coffee is served at a kind of "standing bar". People are queuing for the coffee and afterward – with coffee in their hands – stay in the alley, or sit on garbage lying around to drink the coffee while chatting with others
Despite the queue, the waiting time did not take too long and in the meantime, the staff explained the different kinds of coffee and the ways of preparation. There was not so much choice, but only filter coffee, black coffee, white coffee (with milk), no latte macchiato or similar. I took a "White Coffee" with oat milk and even if I liked it a lot, I would not call it the best coffee in Australia. The coffee at the Ciel Café had been at least as good.
After my second coffee of the day, I was ready to stroll through the many alleys of Melbourne and we quickly landed in the city center. There were many shops, but also a big mall and a department store called Emporium, with a GIANT sale, which was especially attractive for us because of the weak Australian dollar compared to Euro (Aquazzurra stilettos for 140€!!!).
As time went by we got hungry and we went to Supernormal, which happened to be within walking distance and which I had seen on another blog as a recommendation. In the meantime it had also become pretty cold in Melbourne, so, unfortunately, we had to sit inside. The "Supernormal" cooks in Asian fusion cuisine and is particularly suitable for sharing. We chose two different Dim Sum dishes (buns, dumplings) for sharing and a separate dish each (SOY MARINATED TUNA for me, SZECHUAN CHICKEN SALAD for Daniel). The food came in strange intervals and the portions were very little but tasted excellent. Unfortunately, we were just still hungry after that, so I ordered a dessert, but not only any dessert: PEANUT BUTTER PARFAIT, SALTED CARAMEL & SOFT CHOCOLATE…WOW.
Afterward, we went to a bar called Eau de Vie (again recommended by Vicky), which is located behind an inconspicuous door somewhere in the streets. After opening the door, you find yourself back in the '20s. The music and the decoration do their best to make you forget the actual surroundings (aka Melbourne). I found it quite nice there, but I have to say that I found the bar a bit too "stressed" compared to the Bell Boy. Nevertheless, we had a very nice evening in an excellent bar. Our server, a Dutch woman, was incredibly good and very funny. We couldn't decide what to drink (we were a bit overwhelmed by the huge menu), so she told us she would choose a drink for us. If we didn't like it, she would pay for the drinks. But her choice was quite right – no reason to return the drinks.
DAY II
Originally, we had planned to buy eggs, bread, and avocado to have breakfast in our apartment. But as we arrived quite late after an exhausting day, we did not make it to the grocery store. And since we planned a trip outside the city to visit the district "South Yarra" for the next day, we decided to take the opportunity and have brunch there. We found a place that according to Yelp seems to be visited mainly by locals. And indeed, the food was again exceptionally decorated (why do they do that?) and tasted wonderful. However, the prices were pretty much the highest we spent during our whole trip in Australia. AUS$ 25 for Avo Toast with poached eggs and bacon… Even if our reason to go to South Yarra (the local Zimmerman shop had these particular pants in stock…) was redundant in the end (they didn't fit), it certainly wasn't worthless. South Yarra happened to be nice and great for a little walk to get impressions of one of Melbourne's inner suburbs that reminded me of New York's Greenwich or West Village. And indeed, I looked it up afterward: The trade on the main streets (Toorak Road and Chapel Street) focuses on trendy and upscale shopping, restaurants, nightclubs, and café culture. Moreover, the district of South Yarra used to be one of Melbourne's gay villages for several decades.
From South Yarra, it was an easy and quick walk to the Royal Botanical Garden, and the weather was just nice: despite a cold wind, the sun was impressively strong and we spent around 2 hours in the park. On the way home, we made a short trip to the Shrine of Memory. The memorial was built between 1927 and 1934 as a place of mourning, honor, and preservation of the memories of those who lost their lives in the First World War. Today it functions as a memorial to all Australians who served in the war. Being German, it frankly feels strange, although the shrine is impressive and offers a great and wide view of the skyline of Melbourne.
That evening, we met our new friends that we had made in Fiji. I don't want to share too much, but let's just say this way: we didn't leave anything out. And I tasted my first oyster (really tastes like seawater).
At this point, a "Day III" should have followed (there was a real and full day III, we took the plane to Germany at 10.30 pm), however, due to the end of day II (a bit too much fun…), we gave ourselves a rest. That is why I cannot really tell you anything of the day, except that I got very sick right before we supposed to board the plane. But that's a different story.
— If this article helps you travel, please book your trip via the links on this page or through the banner in the sidebar. This will earn me a small commission at no extra cost to you. Thank you for your support!
---